Residents of Parker County turned out at two vigils held on Tuesday to show support for the family of Athena Strand, the young girl who was kidnapped and killed in Wise County last week.
Both vigils were held on the east side of the Parker County Courthouse. Among those at the first vigil at 7 a.m. on Tuesday morning was the person who drove Athena's school bus. Many people gathered to pray and pay respects.
Parker County Judge Pat Deen organized the two gatherings that included remarks from Van Houser, the pastor at North Side Baptist Church in Weatherford.
Deen said the second vigil was put together quickly in response to people who wanted to attend the morning vigil, but couldn't.
At the 6:30 p.m. vigil, Deen began by pointing to the Christmas Tree at the east side of the courthouse, saying the tree was a gift to the county.
"The beauty of this tree is you can change the color of it in an instant," Deen said, adding that Athena's favorite color was pink and her favorite holiday was Christmas, so all the lights on the tree were changed to pink.
"Within an instant, we were able to change the color because of the technology of the tree. I've actually been in touch indirectly with the mother, and it has given her an immense amount of joy that we would do something like this, and this happened so quickly."
Addressing his duties as county judge, Deen said he goes to the jail each week to magistrate and bond out people who were arrested the night before. He said a troubling incident has happened the last couple of weeks.
"Every time, there's at least one sexually aggravated assault of a child under 14 — 'repeat offender' is what those words are on the arrest. That's tough," the visibly moved judge said. "One of the very important things we're going to do is talk about the need and the urgency and the importance of coming together as a community — coming together whether it's Parker County, Wise County, the whole state of Texas, the entire country needs to come together at this time."
Deen introduced Houser, who said the vigil was designed to express grief and come together as a community.
"There was a precious, healthy seven-year-old girl whose future was snatched from her family and friends. The world stood by and saw once again that evil is a reality in this world. And evil has become something that's become more obvious — it's become more ferocious," Houser said.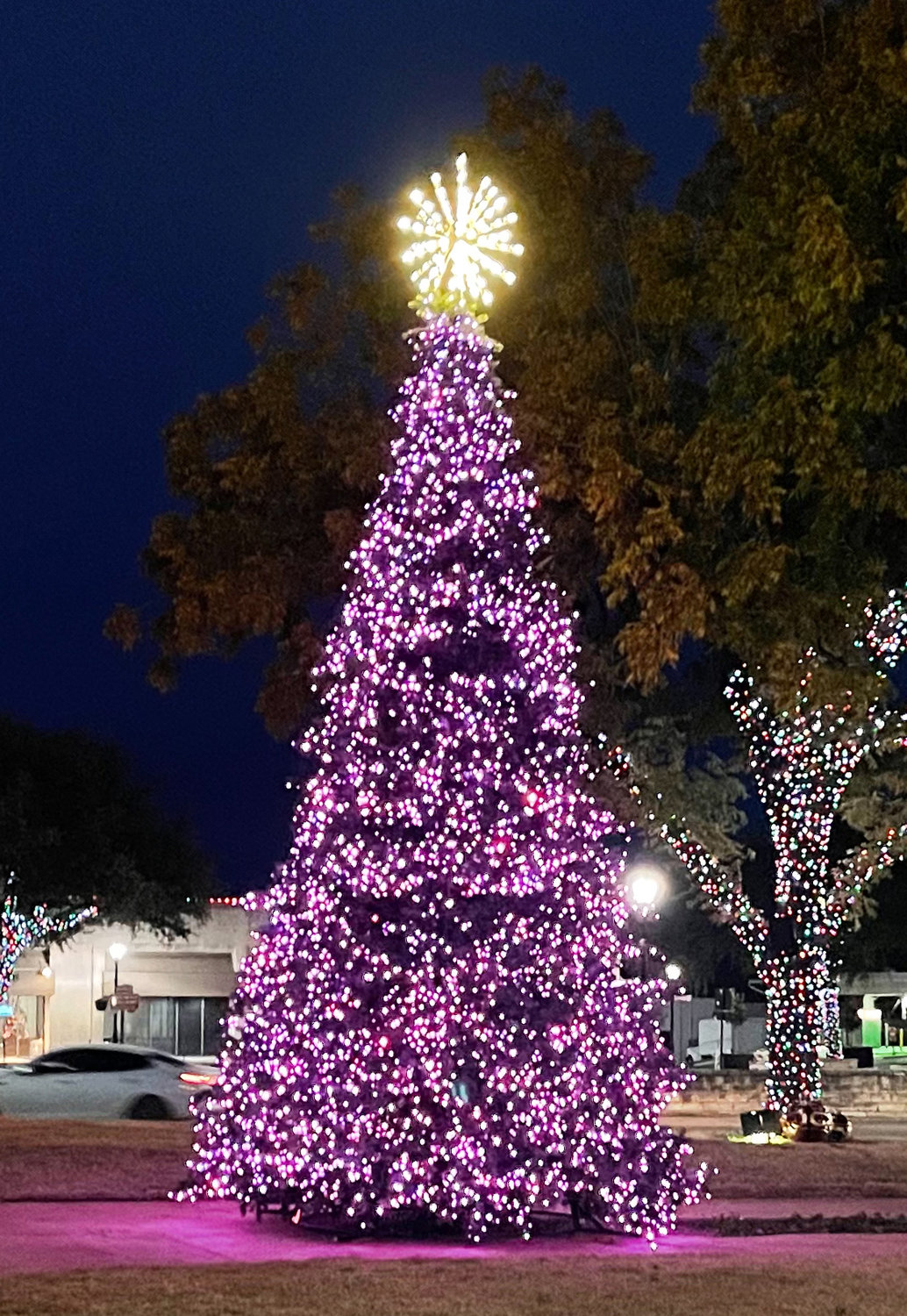 Houser said he could imagine the delight that would have been in Athena's eyes seeing the Christmas tree lit up in pink. He said the reason Athena's kidnapping and death has had such an impact is that it hits close to home.
"Fear and grief tend to be the only two things that draw us to God anymore; when we get afraid and realize we don't have control," Houser said. "All of a sudden we realize we need something bigger than we are — a source that can help us through this.
"And it's right in your mind, our safety is shaken — that causes us to realize we need each other. We need each other to be able to stand together to fight back against this predator."
Houser said it would be difficult to imagine the suffering in the hearts of Athena's parents.
"After trying over and over again over 50 years, there's little I can do to stop the pain. Because you see the pain is attached to love. And the only way they can stop grieving is to stop loving. So as they love and they grieve that out, our job is to come alongside them and hold them up until they can walk again. And that's what these events do. It says to them 'you're not alone. We do understand.'"
The difficult and inevitable question when evil strikes is "why?" How could this be allowed to happen?
Houser said "There is no reason, there is no rationalization, there is no answer for why it occurred. It happened because the mind of man can be destroyed and the mind of an individual can become so warped, that they become a predator to their own people."
He mentioned pornography, some web sites, and violent video games as factors that can lead to the idea that "a human life is not that precious." But, he added, "every life is a valuable life. Each one of us understands the value of that."
Houser also pointed to lack of responsibility and lack of structure as factors in the overall problem. He said there is a difference between liberty and license.
"A child has to learn that there's something that goes with liberty, and that is responsibility," Houser said. "And the more we relieve people of responsibility for their actions, the more we're going to see people who are warped and troubled end up in more and more of these situations. People need to be held accountable for their actions, regardless of what the cause might be."
Houser said he did prevention work nationally for more than a decade of his career.
"Everybody thought what we got to do is keep guns away from kids and kids away from guns, and sex away from kids and kids away from sex, drugs away from kids. No," he said, "prevention is equipping your child to walk through a drug-filled, sex-crazed violent world safely," Houser said.
Houser spoke about the nature of forgiveness, referring to Athena's grandfather, who posted on social media that he would forgive the killer.
"I'm like Athena's grandfather," Houser said. "In my place, I want to — I want to kill that guy. I want ahold of him — I want nobody around. I want whatever I've got in my flesh, I want him to pay and I want him to pay in such a way that I can get my revenge. But I gotta tell you something. I don't want his heart in me. I don't want hate in my heart. I don't want to live my life with bitterness. God's given us a way that we can get past this. You see, forgiveness isn't just good for the other person. It's good for us."
He added that forgiveness does not get the evil-doer off the hook.
"God's gonna see that justice is done," Houser said.
Houser closed by exhorting the gathered crowd not to give in to fear, and to pray for the family of Athena.
"Having a healthy respect for this world is vital. But fear will cripple you and I will not let the actions of perverted minds steal my peace. I will walk in confidence. And I will walk in hope. But I will walk aware," Houser said. "Please pray for the families of Athena. All the people saw the bus driver here this morning. Can you imagine taking that child to school every day on the bus and then finding this out? The teachers in the classroom and the children are there trying to get some understanding where there is no understanding. All we can do, folks, is hold them up. What we've got to do is pray for and walk this family through. And we together can do this."