One area student graduated and others received academic honors at the end of the fall semester and colleges and universities around the country.
Alistair Grant Prescott Henderson graduated from the University of Texas at Austin on Dec. 17, 2022, with dual majors in archeology and philosophy. He is a 2016 graduate of Aledo High School. He made the dean's list multiple times. Because UT offered no commencement exercises for the Fall 2022 semester, he plans to attend commencement exercises in May of 2023.
Alistair is the son of Victoria Fay Prescott and Richard A. Henderson of Aledo.
Henderson plans to pursue a masters degree in archeology.
Academic Honors
Sophomore Audie Isbell, studying exploratory studies, is among more than 1,200 Harding University students included on the dean's list for grades achieved during the fall 2022 semester. The dean's list honors those who carried 12 or more hours with a 3.65 or higher grade-point average and no incompletes
Madison Guinzy of Aledo, Psychology; and Evan Roberts of Weatherford, Exercise Science were named to the Dean's List at Angelo State University in San Angelo, Texas.
To be eligible for the ASU Dean's List, full-time undergraduate students must maintain a 3.25 or better grade point average on a 4.0 scale.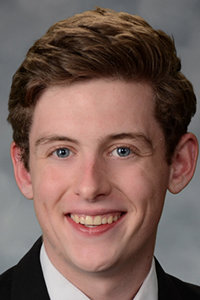 Hudson Blake (pictured) and Anna Markham of Aledo were named to the the Dean's List at Belmont University in Nashville for the Fall 2022 semester. Eligibility is based on a minimum course load of 12 hours and a quality grade point average of 3.5 with no grade below a C.
Samuel Treat of Weatherford was named to the South Plains College Fall 2022 Deans' List.
Patrick Pool of Weatherford was named to Southern New Hampshire University's Fall 2022 President's List.
Ava Elizabeth Tanner earned a 4.0 GPA in the fall 2022 semester, securing a reputable position on Southern Arkansas University's President's list. Tanner is a senior Financial Planning major from Brock.
Riley Hammett of Weatherford was named to the Muhlenberg College Dean's List for the Fall 2022 semester. Muhlenberg College is located in Allentown, Pennsylvania.