Hauss Hejny admits that even as he was playing football elsewhere, his dream was to be the starting quarterback for the Aledo Bearcats and lead them to a state championship.
While the latter has yet to be done, the Bearcats are among this season's favorites to win the Class 5A Division I title — their 11th state championship in school history — and the junior signal caller has emerged as a leading reason why.
"Most of my buddies live here, a lot of my peewee football buddies live here," Hejny said, explaining his decision to return to Aledo after spendings grades 2 through 9 at All Saints Episcopal School in Fort Worth.
"We made a decision to come back last year. I just felt inside this is where I wanted to be and where I wanted to play, no disrespect to All Saints."
Hejny found success at All Saints, working his way onto the varsity as a freshman. But all the while, since he still lived in Aledo, he saw his friends on the Bearcats continuing a tradition of adding large trophies to the school's case.
Hejny has played quarterback since the second grade.
"There wasn't a whole lot of throwing back then. I was faster than everybody, so I was a running quarterback," he said.
Which he still is, as witness by his rushing for over 700 yards in the regular season this year. However, he's developed into quite a passer as well, with more than 1,200 yards and 13 touchdowns opposite just three interceptions.
And while he has always had great respect for the receivers who catch his passes, it's even more so after he spent his first season back as a receiver in 2021. With senior Brayden Fowler-Nicolosi at quarterback, Hejny switched positions and bided his time until he got the chance to compete for the starting job.
In the meantime, he was the second-leading receiver on the Bearcats with 26 catches for 648 yards and seven touchdowns. His average of 58.9 yards per game was tops on the team.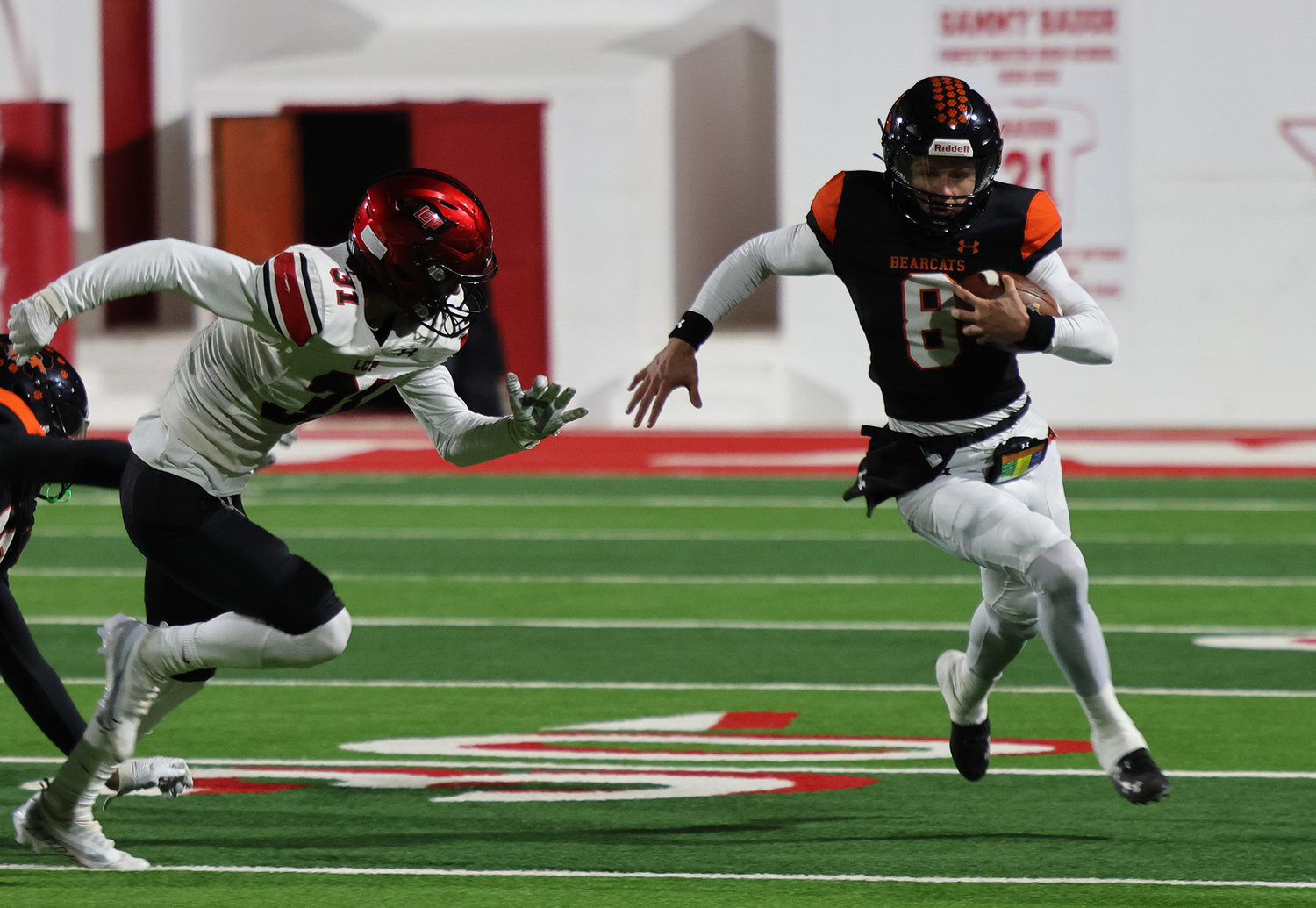 "It wasn't that hard an adjustment. I'd played around in the backyard catching passes," Hejny said. "The only thing I had to get used to was catching the ball and running.
"I did a lot of running, especially in practice. Practice as a receiver is gruesome."
The experience also left Hejny with a better understanding of what receivers are expecting from him. And he believes receivers have greater respect for him, knowing he's been in their shoes.
"As a quarterback you might think after an incompletion, 'If he'd just ran the route deeper,' but now I realize that he might not be at full speed for whatever reason, maybe he just ran a long route before," Hejny said.
Varsity Quarterback
The start to Hejny's varsity career at quarterback was tough with an 0-2 start and losses at Dallas Parish Episcopal and home to Denton Guyer. However, since, the Bearcats won eight straight district games to extend their national-record district winning streak to 111 and capture the 3-5A Division I championship.
"I think I came in way too hyped up. I wasn't comfortable in the pocket," Hejny said of the first two games. "I'm just thankful to the coaches for sticking with me.
"Going into the Northwest game (the third game and district opener), I told myself the pressure's off. I'm going to have trust in the game plan and my abilities, trust in the offensive line, receivers and coaches. I just let loose a little bit."
The result was a 49-20 victory in which Hejny was 10-for-14 for 139 yards with a touchdown and no interceptions. From there he consistently got better, getting ready for what would be the Bearcats' two biggest games of the regular season, both on the road against opponents who were a serious threat to end their record district run.
Behind their leader, the Bearcats slammed Burleson Centennial on the Spartans' home turf, 64-21. A week later they went to Denton and defeated Ryan 35-21 in a matchup folks had circled on their calendars since the University Interscholastic League moved the two powerhouses into the same district back in February.
In those two games Hejny had a combined 23-of-27 passing for 423 yards with five touchdowns and one interception. He also rushed for 308 yards and four TD in the two wins.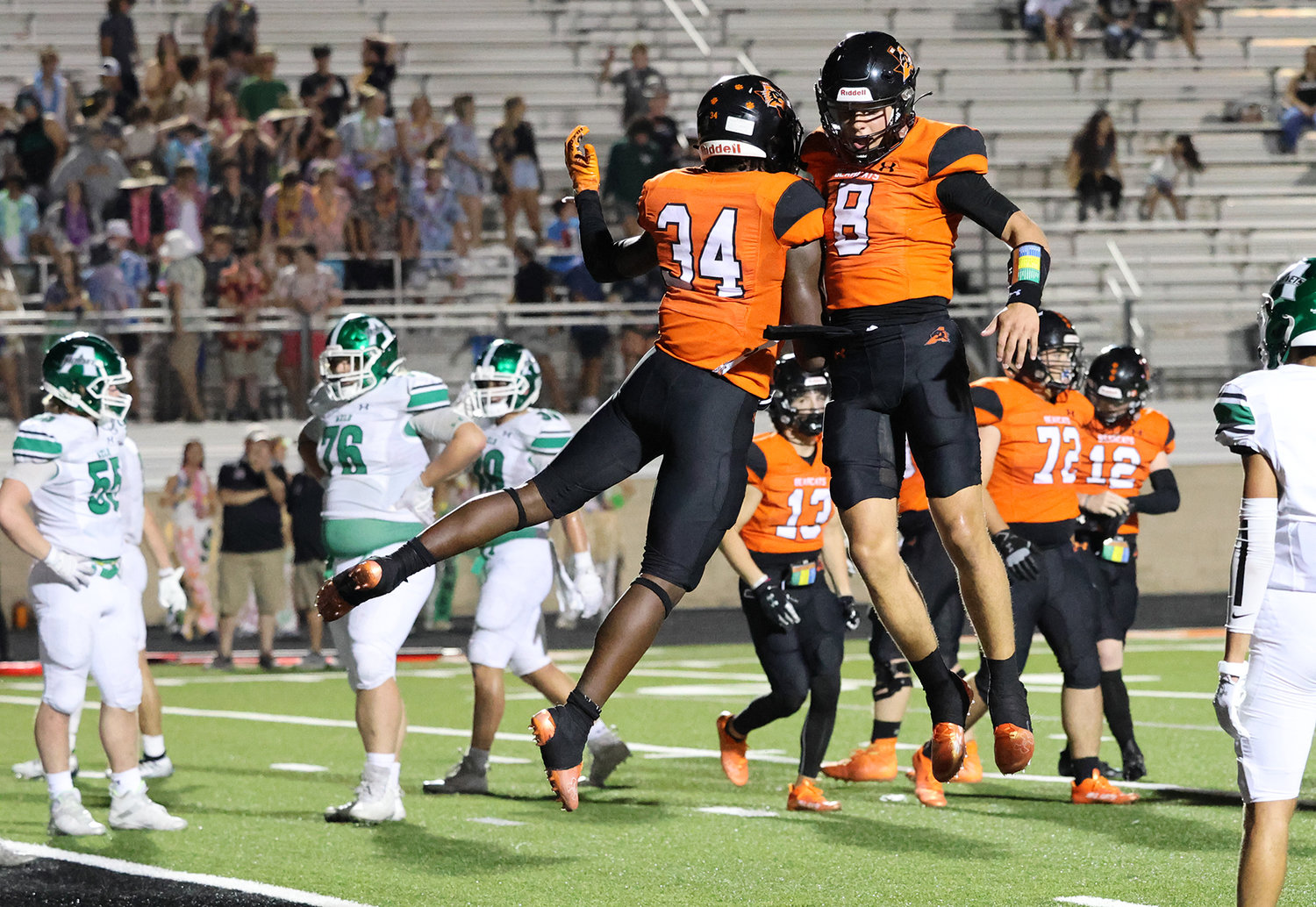 Bearcats head coach Tim Buchanan said Hejny's turnaround from the start of the season to the hero he has become is the epitome of understanding that the work to constantly improve is never done.
"Hauss worked hard to get better and he's still working hard to improve. The players all like him, believe in him, and are completely behind him. He's earned the complete respect of every one of them and all the coaches" Bearcats head coach Tim Buchanan said.
"Going into the Centennial and Ryan games I said this will prove we are a very good football team, I can prove I'm good," Hejny said. "It was definitely eye opening."
While the Centennial game was pretty much a blowout, Ryan had the game tied at 21 in the fourth quarter before Hejny threw a 24-yard touchdown pass to his top receiver, Jalen Pope. Then, after a blocked extra-point kick still left things a bit nervous with more than seven minutes to play, Hejny squelched any hope of a Raiders rally when he burst free down the sidelines for 86 yards and the end zone.
"When we were tied at 21 and were in the huddle I was thinking, 'What a great position to be in. I'm the quarterback for Aledo,'" Hejny said. "We've been working for this since last offseason.
"I think it helped trusting God and what he has planned for me as well."
As for his long run, Hejny said, "I saw a hole and our offensive line did a great job. Our receivers blocked their butts off. Their (Ryan's) linebacker Anthony Hill, he's incredibly fast, but I told myself, 'I'm not letting this dude catch me.' I felt his hands on my heels and I knew he dove, and that's when I said, 'I got this.'"
Teammate Skyler Frank said that play — and some others by his quarterback this season — left him in awe.
"Everybody knows he has wheels like that. Give him space and he'll make the play," Frank said.
Every quarterback has their favorite receiver, and for Hejny that is Pope. The Hejny-to-Pope connection has developed into a dangerous tandem. In those two key wins Pope caught 13 passes for 211 yards and three touchdowns.
"Even throughout 7-on-7 he was my No. 1 guy. He gets open and I can always count on him," Hejny said. "He says, 'Dude, trust me, I can make plays.' And he always does.
"Teams are so worried about Jalen, it allows me to spread it around."
Family Talent
Hejny has two little brothers, Beau is a fifth-grader at All Saints and plays quarterback at the peewee level.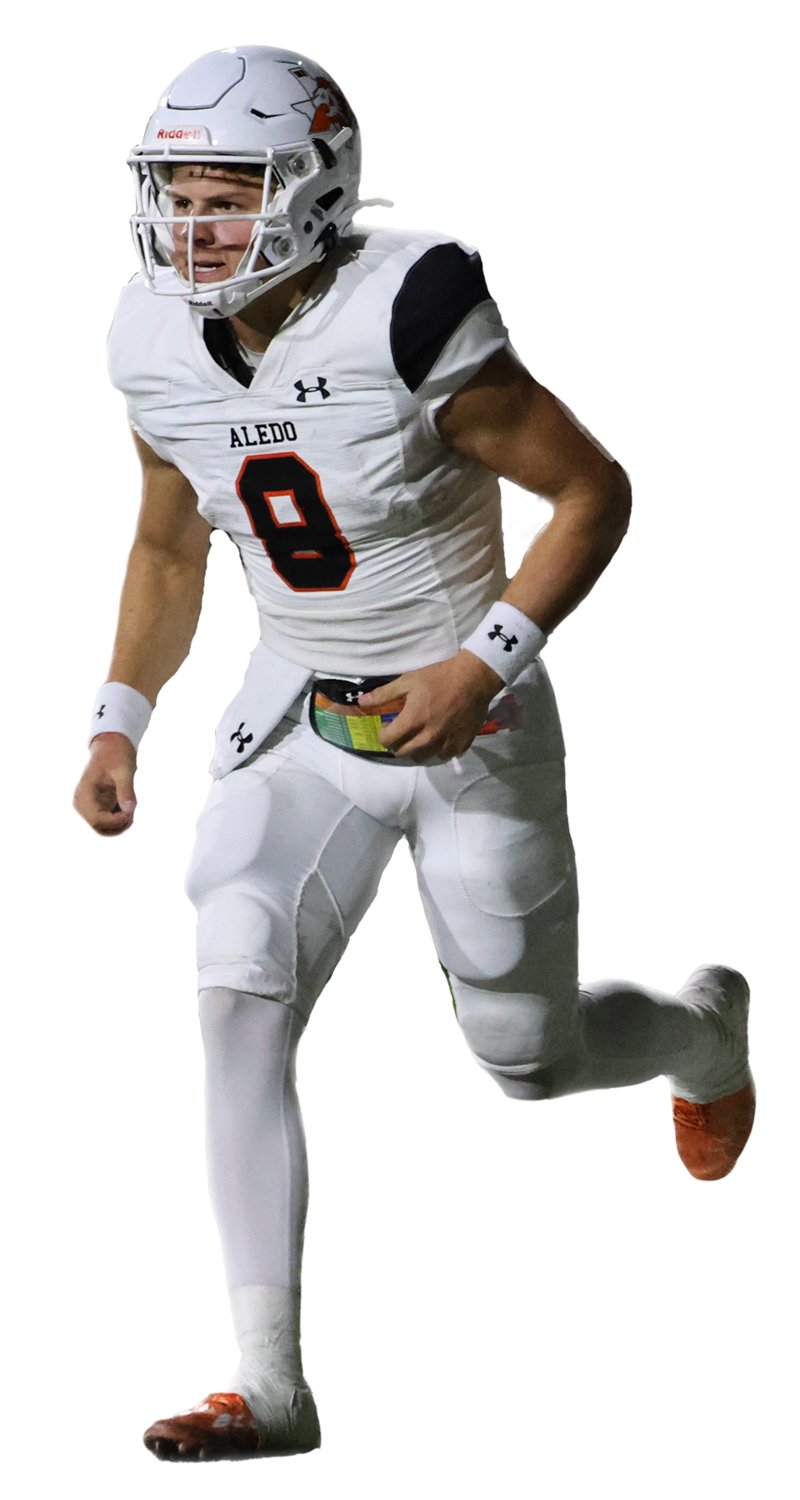 "He's a great passer. He's throwing dimes," Hejny said. "He's going to be better than me."
Youngest brother Jett, age 6, is in his first year of peewee football, but ironically is not a quarterback — yet.
"He'll be a linebacker — until his mindset changes," Hejny said with a laugh.
Whether they follow in their big brother's footsteps and return to play at Aledo remains to be seen. In the meantime, Hejny hopes and his teammates can make the legacy even more attractive to them with another ultimate trophy.
"There's an expectation of perfection in the weight room, on the field, practice, the classroom, watching film, all throughout the program," Hejny said. "Even in youth football you're expected to win the Super Bowl. All of that is what drew me back.
"And the support of this community is awesome. I couldn't be happier being the quarterback of this team."