The Aledo ISD announced that Deputy Superintendent Lynn McKinney will retire at the end of this school year.
McKinney is the district's longest-tenured employee, serving 37 of her 44 years as an educator in Aledo.
When McKinney jokes that she's held just about every position in the district, she's not too far off. She's been:
first-grade teacher (1986-88);
sixth-grade resource teacher and vice principal of K-3 Aledo Elementary for half of the day (1988-89);
vice principal at K-3 Aledo Elementary for a half-day and vice principal at Aledo High School for the other half-day (1989-90);
principal of Aledo High School (1990-99);
assistant superintendent of curriculum and instruction (1999-2001);
assistant superintendent of special programs - which included special education, 504, homeless, federal programs and testing coordinator (2001-11); and
deputy superintendent (2011-present).
"Lynn McKinney's impact on Aledo ISD is so incredibly vast and very much immeasurable," Superintendent Dr. Susan Bohn said. "She broke barriers as the first female principal of Aledo High School and never looked back with several critical leadership roles in our district. She has seen Aledo ISD grow from two school buildings to now 12, and she has made it her life's work to see that our district, our staff and our students succeed.
"I am blessed to have had the chance to work with and learn from her these last five years. We will miss her tremendously but we're so excited for her to enjoy retirement!" Bohn said.
Before arriving at Aledo ISD, McKinney worked for Teacher Corps (1979-80), taught at Sam Houston High School in Houston ISD (1980-81) and taught at Campbell Elementary in Austin ISD from 1981 to 1986. In 1998, McKinney was the TASSP Region 11 Outstanding Secondary Principal and one of five state finalists for TASSP State Secondary Principal of the Year. In 2000, she won East Parker County Chamber Of Commerce's Woman of the Year award.
"I knew Aledo was a special place when I moved here in 1986 but I could have never imagined I'd be here 37 years later having met so many staff members, students and community members that I love so dearly," McKinney said. "My husband Randal — who also retired from Aledo ISD — and I proudly raised our two boys in this community and know there's no better place for families.
"We have always had such amazing students and staff in Aledo, and I feel fortunate to have been part of the school community that makes Aledo ISD so special. I know I am leaving our district in good hands, and I can't wait to see the greatness that is Aledo ISD continue to grow," McKinney said.
Raymond named district's Deputy Superintendent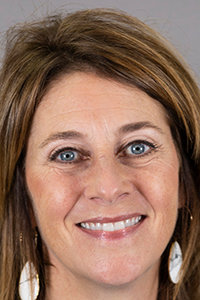 Kimberly Raymond, who joined Aledo ISD as the district's assistant superintendent of student and community programs in June of 2022, will become the new deputy superintendent after McKinney's departure.
Raymond's responsibilities have included a focus on student programs — career and technical education, early college instruction, advanced academics, special education/Section 504, dyslexia, gifted & talented, English as a Second Language, early childhood, fine arts, counseling, health services, libraries, physical education, academic U.I.L., behavior support, safety and security, student enrollment/registration, federal, state and local grant opportunities, strategic planning, and coordination of summer and community programming.
"We are excited for Kim to serve our students and staff in this new role," Bohn said. "She has already made an impact on the programs she serves, and I cannot wait to see her continue to grow our leaders and, in turn, ensure exceptional experiences for our students."
Prior to Aledo ISD, Raymond was the deputy superintendent at Lockhart ISD from 2016 to 2022 with service as the Lockhart ISD interim superintendent from May through June 2018. She was a high school (2008-2016) and middle school principal (2006-2008) and assistant principal (2004-2006) in Lake Travis ISD. Raymond was also an assistant principal (2002-2004) and teacher (1995-2002) in Leander ISD as well as a teacher at Dobie Middle School in Austin ISD from 1993 to 1995.
Raymond has a bachelor of arts from Southwest Texas State University and a master's in education from Texas State University as well as a superintendent's certification from the University of Texas at Tyler.
"I have enjoyed so much being a part of the Bearcat community and have learned quickly why Aledo ISD is such a special place to work," Raymond said. "We have such amazing students and staff, and I am excited to expand my role and serve the district as deputy superintendent.
"I do have big shoes to fill as Lynn McKinney has been such a servant leader for Aledo ISD for so many years, but I have been blessed to have been able to learn from Mrs. McKinney and to count her as one of my friends over the last nine months," Raymond said.
Read more about Lynn McKinney's remarkable career at Aledo ISD in next week's issue of The Community News.