The Aledo ISD Board of Trustees honored the February Bearcats of Character for optimism during the February regular board meeting. The district began recognizing Bearcats of Character during the 2021-2022 school year in tandem with beginning the character education program Positivity Project, or P2. P2 says that individuals who project optimism have a positive vision of what the future holds and maintain confidence that they will get there. They keep a positive attitude, despite potential setbacks – and often find ways to convert what may seem like obstacles into stepping-stones to achieve their goals.
The February Bearcats of Character, along with the comments of their nominators, are: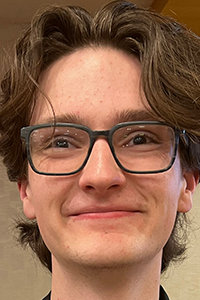 Landon Brown, 12th grade
Aledo High School
From Mrs. Nichols, AP Chemistry teacher at AHS: Landon is a Teacher Aid in PreAP Chemistry and he does not sit back and wait for instructions - he gets up and joins in helping and tutoring students. He has taken AP Chemistry and without me even asking him, he jumps in and really engages and helps groups learn the concepts. I have a lot of Sophomores happy to have his help and have noticed this character of optimism and kindness!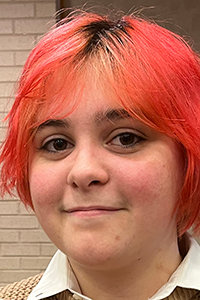 Joie McGowan, 9th grade
Aledo Learning Center
Joie demonstrates optimism every day by seeing the good in other people on campus, both with students and staff. Joie is quick to point out the positive in an event or personal interaction. Even through personally difficult circumstances, Joie remains optimistic and enthusiastic about finishing high school and moving forward toward a happy and fulfilling life. Recently, Joie was on crutches, but wasn't deterred, but was instead able to just laugh at the situation and persevered by being cheerful and gracious. The Aledo Learning Center is very proud of Joie!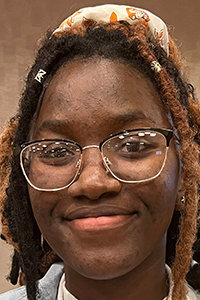 Deogracias Mulenga, 9th grade
Daniel Ninth Grade Campus
From Kristen Martinez: "Deo" is a freshman whose family is from The Congo, in Africa. Besides having to overcome cultural and language barriers, Deo challenged herself and joined Ladycat Soccer, volunteering to be a goalkeeper — something the program desperately needed, but also something Deo had never done. She's trained hard since middle school and has always been very optimistic about her outlook as a soccer player. As a freshman, Deo has become the starting goalkeeper for the Ladycat JV Soccer team this year. Through it all, Deo always has a great attitude and a smile on her face. In addition, she has also joined HOSA at school and plans to compete soon. She has aspirations to someday become a surgeon. Deo is a great example of someone who carries the character trait of optimism. I wish everyone had a great attitude like hers!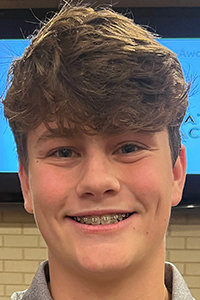 Mark Ogden, 7th grade
Aledo Middle School
Mark Ogden is always positive and optimistic in class. He displays this character daily! I don't think I have ever heard him complain and he regularly lifts up others around him with his words of encouragement! Mark deserves the honor of being nominated as AMS Bearcat Most Optimistic Student.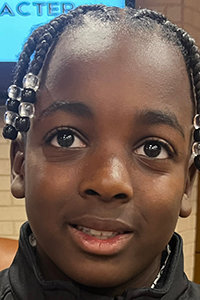 Kaison (KJ) Hamilton, 6th grade
McAnally Middle School
Ms. Dickerson shared that KJ is always positive with a smile on his face! In class he is often giving positive comments to students on their work as well as focusing on the good that he is doing and strives to maintain it.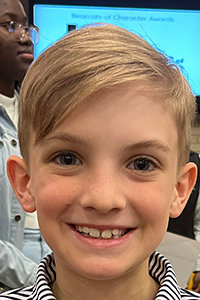 Graham Lee, 3rd grade
Annetta Elementary School
Graham's 3rd grade teacher, Mrs. Coomer, says, "Graham is always able to find a bright side in any situation. He carries such an infectious optimistic outlook! He brings so much joy and laughter to our school family!"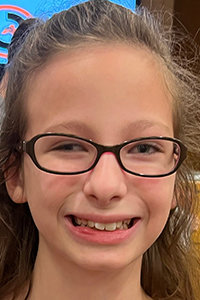 Kensleigh Bourland, 4th grade
Coder Elementary School
Kensleigh comes to class with a smile on her face, ready to put her all into whatever we are doing in class! She has a growth mindset and encourages others around her even when she faces challenges herself. She is a bright light! ~ Ms. Patton, 4th Grade Math/ Science Teacher
Kensleigh is the definition of optimism. She greets her friends and teachers with a smile each morning. She sees the best in every situation and is always willing to work hard and cheer her peers on to greatness. She is the kiddo that every teacher dreams of having in their class because she is sunshine on a cloudy day. She makes everyone's day brighter! ~Lindsay Wright, Coder Resource Teacher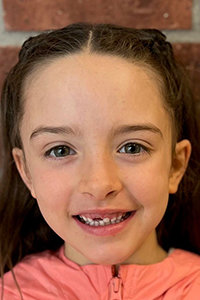 Taya Hess, 1st grade
McCall Elementary School
Taya walks into class everyday with a smile on her face, almost everyday she will say how much she loves coming to school. She always seems to see the positive in everything. One thing I love about her is she came after school started and knew no one - she stepped into class the first day and just fit right in. She is just such a positive person to be around and such a great friend with a smile ready to greet anyone.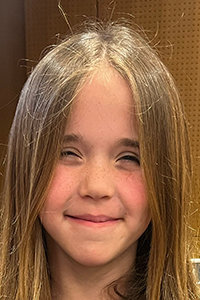 Chandler Stone, 3rd grade
Stuard Elementary School
When I think about optimism and looking on the bright side, this student stands out as a shining example. She anticipates things before they happen and is a pro when it comes to 'rolling with the punches' and not taking life too seriously. She is a light in our classroom! - Ms. Cottrell, 3rd grade teacher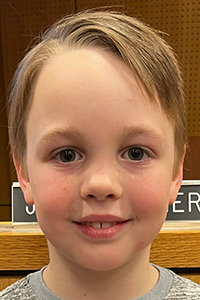 Carter Anderson, 1st Grade
Vandagriff Elementary School
Carter comes to school happy and ready to learn each day. He always has a smile and a positive attitude. Carter is always hopeful and confident that there will be a positive outcome. He encourages others and his smile is contagious.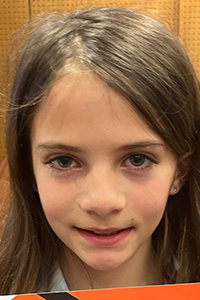 Clara Nikodym, 2nd Grade
Walsh Elementary School
From Clara's teacher, Mrs. Watkins: Clara is truly one of the most optimistic students I have ever been around. Despite any challenges that she faces, she always has an amazing attitude. She is not scared to try new things and will conquer them with enthusiasm. I have never seen her feel defeated or discouraged because something is hard. She encourages all of her classmates and helps them to see the bright side too. We are lucky to have Clara as a part of the Walsh community, and even more lucky that we get to have her in our class everyday.